The cost to make an iPod, Xbox, and other electronics has big bottom-line implications at Apple, Microsoft, and their peers. Some companies are willing to swallow losses on some gadgets -- for instance, gaming consoles -- in hopes that they'll make up the difference, and then some, on sales of related gear, such as video game software. Other companies, including Apple, are able to sell many products for a healthy profit from the get-go.




Market research company iSuppli takes it upon itself to tear down popular gadgets to find out the price of the component parts and the vendors supplying those ingredients. A rundown of several recent iSuppli teardowns follows -- each slide lists the product, maker, release date, retail price on the release date, and iSuppli's estimate of the cost of materials.
---
Apple iPad
Date: March 2010; April 2010 for 3G models
Retail price: Starting at $499
Cost of components: $219.35 to $334.95


In the coming months, Apple plans to introduce six models of the iPad -- three with 3G, three without. Researchers at market research firm iSuppli say the mid-range 32-gigabyte 3G model will likely be the most profitable of the six, given its retail price of $729 and estimated material cost of $275.95. Components for the entry-level iPad that sells for $499 will cost $219.35. The high-end 64-gigabyte model, which sells for $829, will cost almost $335 to build.
---
Google Nexus One
Date: Jan. 5, 2010
Retail price: Starting at $179
Cost of components: $174


Manufactured by HTC, Google's phone boasts the Android operating system. T-Mobile USA sells the Nexus One for $179 with a two-year contract; Google sells a version without a service contract for $529. Verizon Wireless is expected to begin carrying the Nexus One sometime in 2010.

---
Motorola Droid
Date: Nov. 6, 2009
Retail price: Starting at $199
Cost of components: $185


Motorola and Verizon Wireless went to great lengths to promote the Droid, Verizon's first phone running the Android operating system, as the anti-iPhone in TV ads. Verizon Wireless carries the phone for $199 with a two-year contract; it can be purchased contract-free from Best Buy for $599.
---
Apple iPhone 3GS
Date: June 19, 2009
Retail price: Starting at $199
Cost of components: $179.16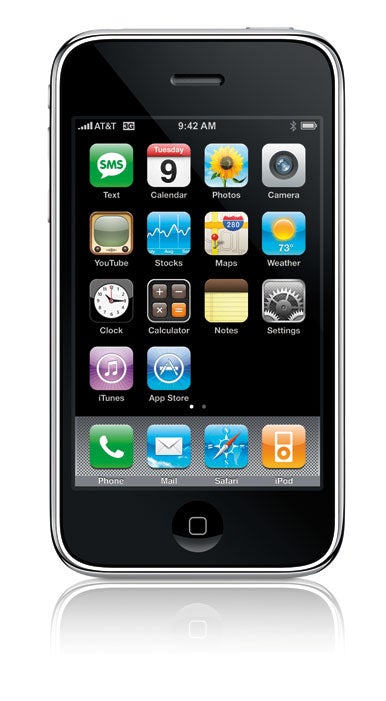 Apple.com

Usually the cost of components goes down from one generation of a product to the next. The iPhone 3G, released in July 2008, cost $53 less to build than the original iPhone, released in 2007. But costs
rose by about $5 for the iPhone 3GS. One reason is that the price of memory hasn't declined as quickly as in the past. The newest iPhone comes in two flavors, 16 gigabytes and 32 gigabytes, while the high-end version released in 2008 had 16GB of memory. An improved 3-megapixel camera with auto-focus costs more than the camera used in the previous generation. Finally, a new Samsung applications chip, at $14.46 a pop, costs a dollar more than last year.


















---
Palm Pre
Date: Expected no later than June 6, 2009
Retail price: Expected to be about $200
Projected cost of components: $137.83



Palm.com

Palm (PALM) needs a winner in the Pre, and it's up against some formidable competition in a smart phone field that includes Apple and its iPhone and Research In Motion, maker of the BlackBerry. Boasting a completely new operating system called WebOS, the Pre bears little resemblance to the Treo line of smart phones that Palm has sold for years. Like the iPhone, the Pre sports a so-called multi-touch display that lets the screen react to more than one finger touch at a time. In an analysis of the probably cost of Pre components, iSuppli estimates the display alone runs $39.51, or almost one-fourth the total hardware expense. Add in $15.96 for eight gigabytes of flash memory, $15.41 for wireless components, and $12.39 for the 3-megapixel camera, and you've accounted for more than half of the Pre's estimated hardware cost.












---
Amazon Kindle 2
Date: Feb. 9, 2009
Retail price: $359
Cost of components: $185.49



Amazon.com

Amazon's second device to bear the Kindle name is thinner than its predecessor, and in some ways more sophisticated. The main cost-driver is the $60 display designed by E Ink Corp., while a wireless module from Novatel Wireless adds another $39.50 to the cost of materials. An applications chip from Freescale Semiconductor adds another $8.64 while two kinds of memory chips from Samsung add another $6.10. Add in $4.45 for the enclosure, $7.50 for the battery and you've accounted for most of the materials and manufacturing cost of the device, according to iSuppli estimates.


















---
Apple iPod Shuffle
Date: Mar. 11, 2009
Retail price: $49 (4GB)
Cost of components: $21.77



Apple.com

The latest iPod shuffle is so small -- less than 2 inches long -- there's hardly room for parts or controls. The most costly components inside are $6 worth of flash memory for storing music. In the unit examined by iSuppli, the memory was supplied by Samsung. The tiny Apple device also includes a Samsung-made chip that handles music and control functions and costs $5.98.
Add in the cost of the battery ($1.55) and the headphones with the inline volume controls ($1.20), and you've accounted for about two-thirds of a device that costs less than $22 to make, including packaging.


















---
Research In Motion BlackBerry Storm
Date: Nov. 21. 2008
Retail price: $249 before rebate
Cost of components: $202.89


BlackBerry.com


Research In Motion's latest effort to outpace Apple in the hotly contested smart phone market, the BlackBerry Storm sports a unique touch screen design that evokes the iPhone in many ways. Reports say RIM sold more than a half a million Storms in its first month on the market. All told, the materials used to make it cost $202.89, according to an iSuppli teardown analysis. Surprisingly, its most expensive component is not the screen, but its Qualcomm-made wireless chip, which costs nearly $35.





















---
Research In Motion BlackBerry Bold
Date: Oct. 2008, in the U.S. (expected release date)
Retail price: Expected to be about $300
Cost of components: $169.41



RIM.com

Research In Motion kicks its smart phone battle with Apple into overdrive with the release of three new devices this year, including the BlackBerry Bold. This device cost just under $170 to build and may sell for as much as $300 when it's offered through AT&T some time this year.



























---
Apple iPhone 3G
Date: July 11, 2008
Retail price: Starting at $199
Cost of components: $174.33



Apple.com

The total cost of materials used inside the latest iPhone is $174.33, a dollar and change higher than the preliminary estimate iSuppli made in June, about two weeks before the phone was actually released. If the analysis is correct, Apple is spending about $53 less on materials than it did with the first iPhone, which iSuppli says costs $227 to make. After accounting for a subsidy from AT&T, iSuppli reckons Apple makes a per-unit gross profit of 55%.












provided by